Mark Perry, OD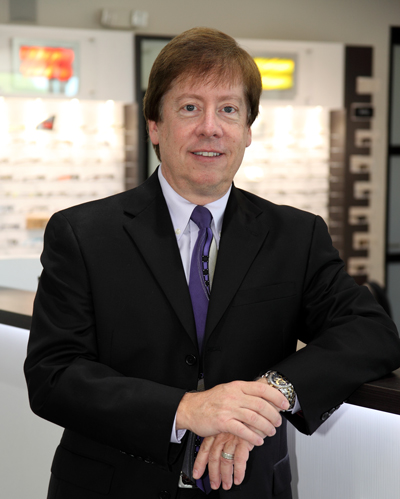 Dr. Mark Perry received his Bachelor of Arts degree in Biology from the University of South Florida in Tampa. He completed his Doctor of Optometry degree at The Southern College of Optometry in Memphis Tennessee, where he graduated with academic honors as Magna Cum Laude. He participated in Beta Sigma Kappa Optometric Honor Society and the Phi Kappa Alpha Optometric Fraternity. He completed his internship in clinical pathology at St. Lukes Eye Clinic, Tarpon Springs, Florida.
Dr. Mark Perry received the prestigious Ivan M. Borish Award and was designated the Optometrist Elite Award by his colleagues. Dr. Mark Perry has authored the Clinical Guide to Anterior and Posterior Segment Pathology, lectured within the optometric profession and participated in FDA contact lens clinical investigations. He currently serves as an examiner for the Florida Board of Optometry and continues to provide leadership on many levels within the profession. Dr. Perry also serves as a principle investigator on FDA Clincal Contact Lens Studies with Ciba and Bausch & Lomb.
Dr. Mark Perry is an active member of the American Optometric Society (AOS), Southern Council of Optometrists (SCO) and the Florida Optometric Association (FOA). He has served as chair for the Membership Services and Convention Planning committees. Dr. Mark Perry remains active in the FOA leadership, he is currently a committee member for the Commercial Tenant Committee.
As the Past-President of the Central Florida Society of Optometric Physicians (CFSOP), Dr. Mark Perry officiates the CFSOP's annual educational program for hundreds of his colleagues. Dr. Mark Perry has volunteered vision care services for the Jeppeson Foundation and other non-profit sight saving organizations.
Dr. Perry has practiced in Orlando since 1989 and administrates additional primary care clinical practices in Orlando, Florida. He is the Administrator for Vision Source in the Central Florida area.
Dr. Mark Perry specializes in complex medical procedures and contact lens fitting for patients with Keratoconus, astigmatism, bifocals, children and patients with other debilitating eye disease. He has served as medical director of the Orlando Laser Vision center and provides pre-operative and post-operative refractive surgery care.