Valid through: December 12th, 2020
50% OFF SALE – GLASSES AND SUNGLASSES
When: Monday December 7th – Saturday December 12th
Where: 400 N Bumby Ave. Orlando, FL 32803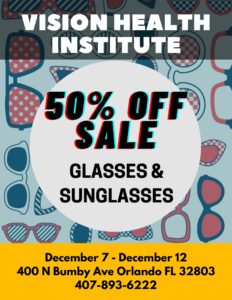 Although we had to cancel our semi-annual 50% OFF SALE in May 2020 due to the ongoing COVID-19 pandemic we were determined to find a safe way to offer the sale to our patients in December 2020! So, we are doing things a little different this year due to the pandemic. Instead of our usual 2 day sale we have extended it for a full week! This will allow us to observe CDC guidelines, maintain social distancing and allow us to sterilize all frames being touched and tried on. We do require everyone to wear a face mask in our office at all times. We also ask that you please come alone for the sale to help limit the number of people in the office. We encourage you to take pictures of yourself wearing the frames to send to  your family and friends or ask one of our opticians to help with frame styling.
Please Note:
The sale cannot be combined with any insurance
The 50% OFF pricing is only valid if purchasing a complete pair of glasses (frames & lenses)
If you don't have a prescription on file with us you are welcome to bring a valid outside prescription
Due to COVID-19 we are only allowing a limited number of people in the optical at one time. We may ask you to wait outside if a 6 ft distance cannot be kept between other patients while shopping for glasses.
If you are not available to come during the week of the sale Dec 7th – Dec 12th you are welcome to come in before and we can keep the glasses on hold for you. The glasses will not be processed nor paid for until the week of the sale. You can call and make a payment over the phone that week.
If you have any additional questions please call us at 407-893-6222 or email us at myvisionhealth@gmail.com